Written on: April 3rd, 2010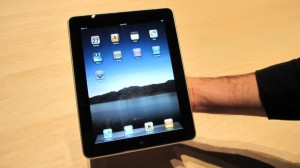 I just picked up my 32 GB iPad from Best Buy (after my online order placed on March 27th was delayed until April 12) and I am not impressed.
As usual iTunes bottlenecks the type of files I can sync with my iPad, Apple dictatorially controls what apps I can have, and I can't customize the unit in any meaningful way.
It is time to jailbreak this thing. Here's how and why.
Comments: 1
Written on: September 17th, 2009
I can't believe a company like Apple or even AT&T can treat their customers this way and expect to keep them loyal. Here is what I just sent to Apple's feedback email address (like anyone will ever read it):
I don't even know where to begin. My business iPhone just died in the middle of a text message today. It will not turn on again at all. It was purchased October 11, 2008 (less than a year old) at the AT&T store in Lincoln, NE (68516).
I live in Omaha, NE (68108) and there is an Apple store here. I called 611 from my iPhone to find out what we need to do to get her phone replaced. After 5 dropped calls, and a total of more than 20 minutes on hold, I finally got through to an Apple support representative (who was really an AT&T support representative).
He informed me that AT&T does not have any stores in Omaha. (Here's a link to the half-dozen AT&T stores in Omaha )
I read him the numbers for the first three, and he tried to call and was unable to get through to a representative (in one case the number was disconnected!)
I gave up on him and called the AT&T store where I bought the phone in Lincoln and spoke to the manager. He informed me that the AT&T store where we bought the iPhone can't replace it at all. Even though my phone is less than a year old, it has to be done at an Apple store. No exceptions.
So I called the Apple store. The representative there told me that he couldn't set up an appointment at the Genius Bar, so I would have to go online and do it.
FRUSTRATING. SO now an hour after I started, I go online only to find that I have to wait 2 DAYS for an appointment.
Needless to say at this moment I am seriously missing my HTC touch from Sprint. I doubt anyone will actually read this, and if anyone does they won't be empowered to do anything about it in my case or as part of an aggregated policy, but it makes me feel better to send it.
I love my iPhone, but this is not the Apple service that has differentiated your company in the past, and I can honestly say I will be looking at other options in the future for my business telephone needs.