Jailbreak Your iPad NOW to Avoid Problems With a Best Buy Accidental Damage Safety Net
Written on: April 3rd, 2010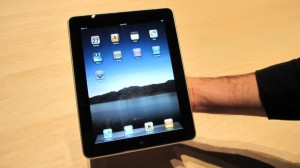 I just picked up my 32 GB iPad from Best Buy (after my online order placed on March 27th was delayed until April 12) and I am not impressed.
As usual iTunes bottlenecks the type of files I can sync with my iPad, Apple dictatorially controls what apps I can have, and I can't customize the unit in any meaningful way.
It is time to jailbreak this thing.  Here's how and why.
(P.S. Buy it at Best Buy with an accidental damage warranty.  If it bricks, smash it and exchange it.)
A Couple Problems Out of the Box:
Like all apple mobile products you MUST have a computer with iTunes available to turn on your iPad, so don't go ripping it out of the cellophane in the car.  Its pointless.
When I did get back to my office and tethered the iPad to my Windows 7 netbook it took a few minutes to get things going, but nothing out of the ordinary.
Then I tried to get the iPad on my WiFi network.  Let the problems begin.
Just like my iPhone, the iPad detected my network and asked me for a password.  I enereted my password and the iPad authenticated.  With the little three wave wifi icon in the top left corner I tapped on Safari and tried to open Google.
BOOM.
Cannot Open Page

Safari cannot open the page because it is not connected to the Internet.
What the heck?!My netbook was on the wifi.  My iPhone was on the wifi.  My iPad as not.  I tried rebooting the iPad, restoring the iPad,and  forgetting the network and re-entering it.  Nothing worked.
Without internet the iPad isn't even heavy enough to be a good paper weight, so I called Apple Support to figure out what the problem was.
Apple Support Was No Help
While everyone on the phone from Apple was very friendly and they tried to be helpful, they had no explanation.
After some back and forth we discovered that the iPad was not pulling a "Router Number" from the router in my office and that is why it could authenticate and get an IP address but not actually connect.
It was super frustrating to look at my iPhone perfectly connected with Router Number and all and then look at my brand new iPad with no internet legs whatsoever.
Because of the limitations of the iPad software, it wouldn't let me enter the router number (copied from my iPhone) and that was it.  Nothing more to do.  Thanks for trying an bye bye.
Hidden Costs
One of the things that you probably don't know is that you only get one iPad operating system update for free.
After that, you pay for each one.  No one knows how much they will be or if security updates will be considered OS upgrades, but this could actually be great news for jail breakers.
If people have to pay for OS updates, they probably won't update – especially if their iPad is jail broken.
Time for an Jail Break Unlock
Setting aside the internet troubles for a moment, the iPad is a nice portable screen, so jail breaking it is going to be SWEET.
Right now a couple of people I know who have had success developing jail breaks for the iPhone are working on the iPad.  The SECOND they have a tested jail break I am going to be all over it and I will post the location and method used here.
If you want to get an alert when the jail break is available for your iPad, leave a comment below and I will post an update comment when its in.  Otherwise, subscribe to my RSS and you will get an alert in your email when it is posted,.