Win an Apple iPad! Enter Right Now!
Written on: February 5th, 2010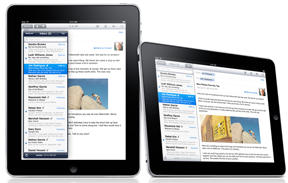 You can win Apple's latest creation, the iPad just by being a part of the nationally-syndicated Living Digital radio show!
The Living Digital show covers today's technology from cell phones, to 3D TV to your personal computer with a special focus on how your technology impacts your life.
The show airs from 2-5 PM CST on Saturday afternoon and
can also be heard online.
So How Can I Win an iPad?
There are a few different ways you can win.  Each time you complete one of the following actions, you will receive one entry in the drawing for the iPad.  There is no limit to the number of times you can enter, so feel free to enter as often as you like:
Call 1-800-825-5865 between 2-5 PM CST and ask a technology question on the air – Worth 10 entries
Email your technology question for use on the air at thor<.at.>livingdigitalshow.com – Worth 3 entries
Post a valid (not spammy) comment on any post on this blog.  You receive one entry for each comment you post. You must include a valid email address in the appropriate field. – Worth 1 entry per comment

Follow @thorschrock on Twitter and RT this message for a bonus entry every day you are following me! I entered the Living Digital Show Apple iPad giveaway!  You can enter too at http://www.livingdigitalshow.com. #ipad


– Worth 1 entry per day automatically

How Does the Contest Work?
Entries in the contest will be accumulated between now and the public availibility date of the iPad.
When the iPad is available for purchase, we will buy one and no additional entries will be accepted at that time.
The iPad will be filmed in an unboxing video, repackaged and immediately shipped to the winner (who we will congratulate in the video).
If you are entering from outside the US, please understand that we must comply with duties, taxes, and export regulations that are applicable in your country.
All radio callers, emailers, twitter followers who re-tweet, and comment posters will be aggregated and numbered.  Then a random number will be generated.  The entry that corresponds to the generated number wins the iPad.
How Will the Winner be Notified?
The winner will be notified by email or telephone, depending on the contact information we have available.  The winner will have 1 business day to claim the prize, or we will draw another winner.
The purpose of this contest is to generate interest and callers for the Living Digital show, and that is why the contest has been slanted for callers and emailers unlike the last contest I did a number of months back.