White or Wheat Sandwich Shop Takes Over Where Brownbaggers Left Off
Written on: May 22nd, 2009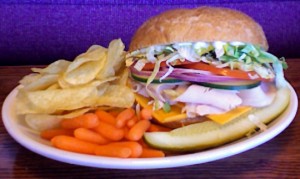 We have a bit of a lunch tradition at Schrock Innovations.
Each day one of my employees asks, what are we getting for lunch?
The chorus of "i don't know" and "not Jimmy Johns again" echos through our service center.
After some discussion we all agree on a place and each employee takes a turn buying lunch for everyone else.
Scott suggested we try something new as a favor to him.  He told us we would not be sorry.
He asked if we could order lunch from White or Wheat Sandwich Shoppe.
White or Wheat took over the bay that used to hold Brown Baggers on 70th and Van Dorn.  I was so impressed with the sandwiches we ordered that I called to speak with the owner and tell her what a great job she was doing.
Most sandwich shops either buy pre-made bread, or make their own.  Making your own bread is a tricky thing.  You have to keep it fresh because without good bread you can't have a good sandwich.
On the flip side, the sandwich business is not exactly a high-margin industry.  You have to keep your food cost around 25% of your sales – no higher than 30% or you simply won't survive.
To my knowledge, White or Wheat is the only sandwich shop in Lincoln, NE that hand rolls and bakes each and every piece of bread they use in their facility.  When I say hand rolled I mean they don't use a machine.  Their bread is HAND ROLLED and you can taste the difference!
The owner of White or Wheat Sandwich Shoppe did not ask me to write this and I was not paid to write this.  Their sandwiches are genuinely good and I highly recommend them!
White or Wheat Sandwich Shoppe offers catering as well as delivery.  Call them for more information at 402-434-3980.