Written on: October 19th, 2009
In the past, phishing scams were almost always something people using Hotmail, Gmail, or Yahoo mail had to be concerned about. But now a new twist to an old email scam has small business users calling their IT people almost daily.
Emails like this one are being sent out on a mass basis to people who are not using any of the mass-email services:
If you look at the HTML code behind the "confirmation" link you will find that it is actually taking you to http://schrockinnovations.com.it1ttil.com instead of http://www.schrockinnovations.com
If you follow their link, you will see a page that looks like this: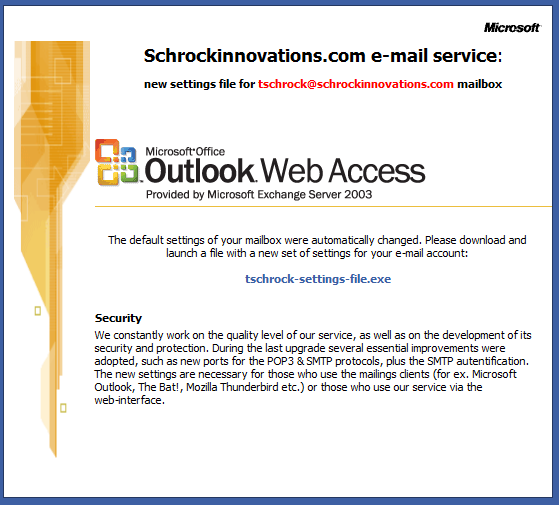 The phishers want you to download an executable file that will probably infect your computer with a virus.
Our web staff has been taking questions from our customers as well as other confused email users who don't have an IT person who would have sent them this kind of an email.
If you get one of these, just mark it as spam. Whatever you do, don't download the .exe file!