Written on: November 16th, 2009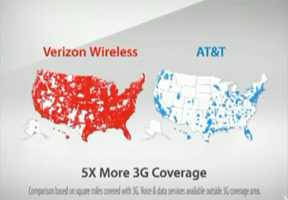 In early October Verizon started running a commercial series comparing their 3G wireless coverage to AT&T's 3G coverage. The commercials got AT&T's attention, and they requested Verizon modify the campaign.
AT&T says that the 3G coverage maps featured in the campaign, as well as the depicted frustration of iPhone users lead viewers to believe that AT&T users can't use their wireless devices at all across the majority of the country.
Here's the primary commercial they are frustrated with:
I am an iPhone user myself and I can testify to my level of frustration when I can't drive down Interstate 80 between Lincoln and Omaha NE without my call dropping. That's not even 3G – That's a straight cell call. AT&T finally got coverage across Lincoln, NE – a population of over 230,000 people – this summer.
Here Comes the Judge
AT&T is now suing Verizon over the commercial series. Their complaint states:
Verizon's advertisements also depict AT&T customers as frustrated or sad and unable to meet their friends as the map showing swaths of white or blank space hovers over the fictional AT&T customer's head, reinforcing the misleading message conveyed by the maps; that AT&T has no coverage and thus AT&T customers cannot use their wireless devices in large portions of the United States.
AT&T goes on to claim:
[AT&T is] losing incalculable market share, invaluable goodwill that it has spent billions of dollars to develop among consumers, and the significant investment it has made in its wireless network.
I think this comes down to a pretty basic question. Is Verizon challenging the 3G coverage AT&T offers or AT&T's overall coverage of any kind.
Hello AT&T check out the GIANT "3G COVERAGE" label under the maps. I think it is pretty clear that they are claiming that Verizon has a superior 3G coverage network. How AT&T things the commercials make people fell is irrelevant.

The Kinda-Scientific Test
I decided I would solve this case for whatever unfortunate judge has to hear it before it even goes to court.
I hopped in my car and departed from Omaha, NE where Verizon's map shows AT&T has 3G coverage and drove toward Des Moines, IA.
According to Verizon, I should lose my 3G coverage when I leave Omaha and should not regain it until I am in DesMoins. Click here for my route.
I updated my findings via Twitter as my wife and I drove the route. Here is the coverage I experienced in reality:
Testing Verizon's AT&T map. 3g signal lost at IA mile marker 11 on I80 in Iowa. So far Verizon's map is accurate.
No AT&T signal whatsoever from IA I80 mile marker 14 through 17 12:14 PM Nov 14th
No AT&T 3g from I80 mile marker 11 through mile marker 83. 1:06 PM Nov 14th
No AT&T signal at all from I80 IA mile marker 83 through 87 1:07 PM Nov 14th
No AT&T 3g from I80 IA mile marker 87 through 101. No signal at all from 101 to 103 1:19 PM Nov 14th
The Verdict
The bottom line is that in the test I conducted, Verizon's map is accurate and their advertisement is very true.
If anything, they were generous to AT&T because there were many times when I had to type and hold a Twitter update because I could not get ANY cellular or data coverage at all on the AT&T network.
All of my technicians in the shop are flashing their Droid phones and while I love my iPhone, the plan is super expensive and lets be honest – the 3G coverage just isn't the best around.