Written on: February 3rd, 2010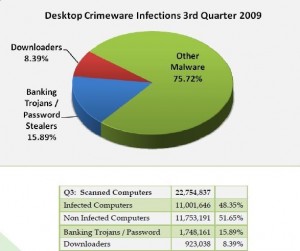 The Anti Phishing Working Group reported that in the third quarter of 2009, 48% of the computers scanned for malware were infected with downloaders, password stealers, or other forms of malware.
Their report also indicated a 5.5% increase in reports of first time phishing attempts, with an overall decrease in the number of victims.
This indicates that cyber criminals are working faster to get new phishing sites online, but those sites are being discovered and neutralized more quickly than ever.
The report continues on to indicate that the single greatest problem in the battle against phishing scams is a general lack of awareness among those in the public about how the scams work and how to avoid becoming a victim.