Schrock Innovations Wins 1st Place in the Best of Omaha Competition
Written on: January 4th, 2012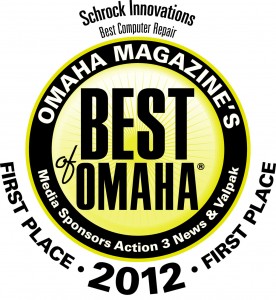 I am proud to announce that thanks to the votes of our satisfied customers, Schrock Innovations won first place in the Best of Omaha Competition for computer repair.
The Best of Omaha is a competition sponsored by Omaha Magazine, KMTV Channel 3, and Valpack where consumers log into the Best of Omaha website and vote for their favorite local companies in every imaginable category.
Voters' accounts are confirmed by both IP address and email address to prevent automated voting or ballot stuffing.
Open for a Year and Already Best of Omaha
Schrock has won Best of Lincoln every year since 2001 in Lincoln, so we are familiar with the "Best of" awards and the weight they carry with consumers.
The voting for this year's Best of Omaha happened in the fall of 2011 – right about the same time as the one-year anniversary of our new Omaha Service Center at Village Pointe South.
When I do the weekly radio shows and explain to my listeners that Schrock is different because we do care about our customers.  We are thrilled when they are thrilled and if a customer is not happy with our work we do everything we can to make them thrilled.
Winning this Best of Omaha Award is a validation of our efforts, and we will continue to work hard to earn your votes again in 2012!