Omaha Computer Repair Service Center off to a Roaring Start
Written on: October 21st, 2010
Sunday morning at 7:00 AM I took to the KFAB airwaves for our weekly Compute This radio show (available free on iTunes)  to announce the opening of the Service Center that afternoon.
The show was awesome and I left the studio a little less nervous than when I got up that morning.
A Smashing Success!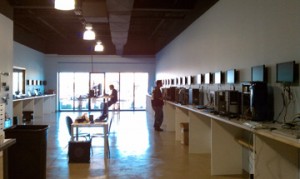 We had over 100 people come in that Sunday (10/10/10 no less) and nearly all of them brought computers in for a discounted Preventative Maintenance Checkup.
The Omaha staff did a great job making everyone feel welcome, processing in the computers and making sure everyone got a helping from the Lovely Kimberly's amazing cookie buffet.
In fact, 11 days later – after the glow of the grand opening had completely passed, our bench is STILL full with an average of 11 computers coming through the service center every day.
What is New in the Omaha Service Center?
In 2008 we built a state-of-the-art Service Center in Lincoln, NE.  We got a lot of things right when we built that, but we also could have done a few things differently.
For example, we built the walls in the new Omaha Service Center all the way to the ceiling to help reduce echo, we shortened the distance from the front desk to the front door, and we leased two full bays – one for retail and service and another for repair.
The new configuration allowed us to install 40 bench spots (as opposed to Lincoln's 26) – and thankfully so.  As you can see in the picture above, the bench is full!
What's Next for Schrock Innovations?
Now that Omaha is launched and moving I am working to catch up on things I have been neglecting (like this blog).  We also have some big events coming up soon:
Our 2010 Holiday Special
Possibility of a Black Friday Sale
Significant internal and external website updates
A new software product that many of our customers have been asking us to make for years