Is Your Dell Desktop One of the 97% That Are Defective?
Written on: July 2nd, 2010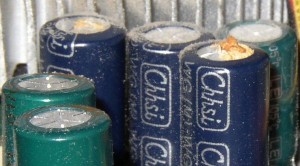 If you purchased a computer between 1999 and about 2003, you probably ended up with a nasty repair bill a couple years later.
The reason was a glut of capacitors that were manufactured in the gray market that contained a mix of electrolytes that was slightly off.  The result was capacitors that eventually bulged, popped, and leaked.  This would cause your computer to malfunction in any number of ways.
In our Service Centers at Schrock Innovations we have replaced many boards (mostly on 2005 and older E-Machines) that suffered from what became known as the capacitor plague.
Massive Desktop PC Failure
Owners of Dell computers are reliving some of those bad-old-days lately.  It seems that the capacitors on many Dell motherboards are going bad at an alarming rate.  Engadget is reporting that the failure rate for Dell computers is around 97%!
Most consumers who call with capacitor-related symptoms don't really know why they are experiencing problems, so Dell's technicians move the caller through the standard troubleshooting tree over and over as their warranty slowly ticks away.
The leaked documents explain that Dell is actively and intentionally telling their customer service representatives to ignore the capacitor problem:
The docs show that Dell asked customer service reps to deny there was any problem with their motherboards, telling them to pretend they'd never heard about the issue and to "emphasize uncertainty."
These problems seem to be confined to Dell Desktop computers.  If you own a laptop you should be ok.  The only way to get your board replaced under warranty is to actually have a technician inspect your system looking for bulging, cracked, or leaking capacitors.
What Should I Do if I Own a Dell Desktop PC?
If you find one, call Dell's technical support with your symptoms and then add "and I also have a leaking capacitor inside my computer."  There is no way for their support representatives to deny you a motherboard is you KNOW it is bad and they know you are certain.
For a limited time at Schrock Innovations you can bring in your Dell Desktop system – whether it is in its Dell Warranty or not – and our technicians will inspect its capacitors free of charge.  If you have a bad one, we will check your warranty status and deal with Dell for you.
No appointment is needed.  Just drop your desktop system off – no cords or monitor required – and we will have it back to you usually within 1 day.