Windows 7 Launch Party This Saturday at Schrock Innovations in Lincoln
Written on: October 15th, 2009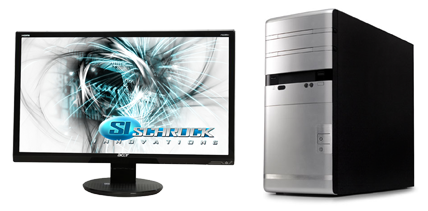 Schrock Innovations is holding a Windows 7 launch party this Saturday, October 17 in our Lincoln Service Center form 10-noon.
Stop by the Service Center to enjoy a dessert bar (dessert in the morning – AWESOME!), take a peek at our 2009 Holiday Special PC, and test drive Microsoft's latest operating system, Windows 7, almost a week before your friends can.
I know there the Texas Tech game is that Saturday, so if you need a few extra reasons to make the trip Saturday morning here they are:
FREE DOOR PRIZES
Just stop by the launch party and sign in to win.  We will be giving away more than $700 in prizes to people just for attending the party.  You could win:
An MSI Netbook Computer ($400 retail value)
320 GB External Backup Hard Drive ($120 retail value)
One of 2 $50 Schrock Innovations Gift Cards
A FREE Copy of Windows 7 Home Premium (available after October 22nd)
A 2 GB USB Flash Drive
TECHNOLOGY DEMONSTRATIONS
We will be showing off some of the fancy new technology behind this year's Holiday Special PC that you will only find at Schrock Innovations.
Take a peek at the latest hard drive technology, solid state.  These hard drives have no moving parts, making them the most reliable storage device you can get in a computer today.
Watch us beam video wirelessly to a TV on the other side of the Service Center using Windows 7's new media sharing functions
Watch one of our technicians produce a movie and beam it to a television without any DVDs at all in less than a minute!
I hope to see you there!