Preventing Identity Theft With Dale Johnson
on KFOR's Lincoln Live Afternoon Show
Written on: October 7th, 2009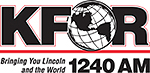 This afternoon I was on KFOR's Lincoln Live afternoon show with Dale Johnson and Officer Russ talking about preventing digital identity theft.
The interview was about 30 minutes, and there were some great pointers for keeping your pocketbook safe while you are on the Internet.
Working in the Service Center at Schrock Innovations we have at least one person every day on our bench who is infected with a program that attempts to steal their financial information simply by asking for it.
What Did You Cover in the Interview?
We touched on a number of topics during the interview, but these were some of the major points:
How to cyber-crooks get your credit card number?  You might be surprised how many people give it up freely!
What can the police really do to help you once you have become an identity theft victim?
What is the one piece of software you NEED on your computer that stops financial fraud in its tracks?
What are some basic safe practices that can protect your children on Twitter and Facebook?
Listen to the Interview
If you missed Lincoln Live this afternoon, you can listen to the complete audio here.