First Computer Repair Business Weekly Podcast Recorded
Written on: September 29th, 2009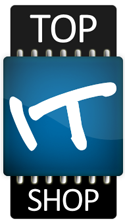 This week Steve from Podnutz and I recorded the first episode of Computer Repair Business Weekly.  The podcast will be featured on the topITshop.com website and is designed to help current and aspiring independent computer repair shop owners keep their heads above water and MAKE MONEY.
The podcast will be released in weekly installments on topITshop.com as well as through iTunes when the website goes live in December 2009.
Steve recently sold his own computer repair company and I have owned and operated Schrock Innovations for over 10 years.  The two of us have different perspectives and experiences to draw from and together on the podcast we offer some pretty unique conversation.
What Did You Talk About?
For example, in this episode we talked about why it is important to think about what kind of business owner you want to be before you open your doors to the world.
There are two kinds of business owners – Small Business Owners and Entrepreneurs.
Small business owners enjoy a less expensive start up and easier management, but typically their operations grind to a halt if they don't show up to work.
Entrepreneurial operations are more expensive and complex to start up, but if the owner executes properly they can run on their own as a systematized operation.  This allows the entrepreneur to make his or her exit at some point and move on to a new venture while their old one continues to bring in money.
Where can I Listen?
The podcasts will not be released until the topITshop website goes live in December.  If you follow topITshop.com on Twitter, you will know exactly when we launch and we will tweet when the podcast is released.