Free Business Leads From Google Local Business Center
Written on: June 19th, 2009
When new web clients come to me they all seem to want one thing – They want to rank well in Google to get FREE business leads.
Before you start to navigate the thorny paths of search engine optimization, take advantage of what Google gives you for FREE.  Take 5 minutes to list your business with Google's Local Business Center and watch the sales leads ROLL IN!
What is the Google Local Business Center?

When you do a Google search for a product, service, or business name you might have noticed the listings that appear under the Local Results heading.  These results are listed in geographic order based on what Google believes to be your current location.
Google doesn't just make these listing up.  Most of them come directly from the Local Business Center profile you can create free of charge to help promote your business.
Trackable Results
Last week Google added a feature to the Local Business Center that allows you to see how many times your listing was displayed, how many times visitors took an action, and how many people asked for directions to your business based on the listing.
For example, in the last 30 days our listing was shown 991 times resulting in 59 "actions".  An action is whenever a visitor clicks on the map to get more information about your company, clicks through to your website, or requests driving directions.
Here is how our 59 actions broke out:
28 Clicks for more info on Maps
1 Clicks for driving directions
30 Clicks to your website
If you run the numbers, you find that this free listing converts about 6% of all Google searches for our key search terms right into our Lincoln Service Center.
Local Results
Keep in mind that these results are sorted by the distance Google believes the visitor is from the business.  This is not a situation where you can influence Google to list your operation above a competitor's.  If your business is a very localized operation – like a lawn mowing service – Google Local Business Center can get you some new customers who want top do business because you are close by.
Additional Benefits of Completing Your Profile
Once you have created and confirmed your account (they make you confirm your address by mailing you a post card with a code on it) you should complete your profile as completely as possible.  You can add the following to your profile that will help boost the number of leads you receive:
Up to 5 videos
Up to 10 Pictures
A Business Description
Customer Reviews
Accepted Forms of Payment
Service Area
Hours of Operation
Hourly Rates
Coupons
Here is a sample of the search results from Google with Schrock Innovations, another local competitor, and Brad's PC Repair.  Schrock has a 100% complete profile with coupons.  The other competitor has a mostly complete profile, and Brad's PC Repair has an incomplete profile.  Notice the difference in the search results: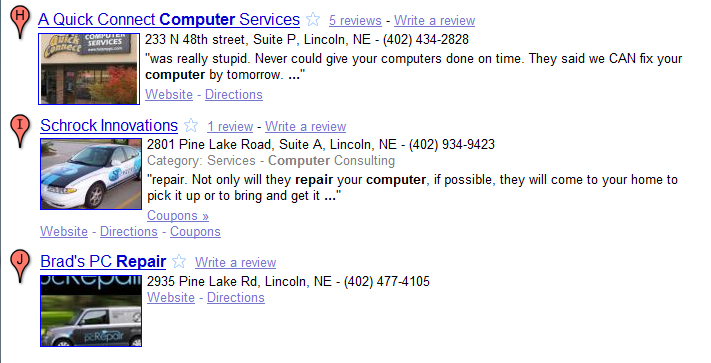 The bottom line is that if you are not using Google's Local Business Center you are missing out on new customers, leads, and probably sales.  This is a great alternative to the Yellow Pages and a no-brainer addition if you already have an ad.