Ultimate Upgrade Computer Sale Kicks off Today!
Written on: April 13th, 2009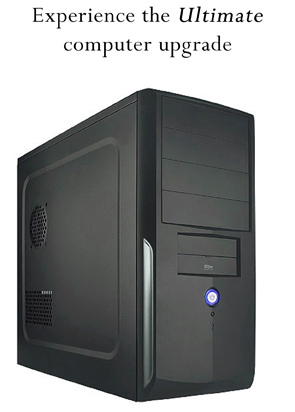 I hope everyone had a happy and safe Easter!  On Saturday's Compute This Radio Show I launched the Ultimate Upgrade Computer Sale at Schrock Innovations.
For those of you new to my blog, the Ultimate Upgrade sale is a special offer that we make only once each year.  During the sale you can trade in your old, tired computer tower for a brand new Modular Computer from Schrock for only $449!
Next to our annual Holiday sale, this is the most popular computer offering we have all year.  Our customers love the Ultimate Upgrade because they get a $700 computer for only $449 by trading in their old system.
We don't use any of your old parts in the construction of your new PC, and we can even transfer your data from your old PC to your new one.
Here are the specifications on this year's system:
AMD Athlon X2 Dual Core Processor
2 GB High Speed RAM Memory
500 GB SATA3 Hard Drive
Multilayer DVD +/- RW Drive (burns CDs and DVDs)
6-in-1 Multi Card Reader (for your digital camera memory cards)
Windows Vista Home Premium
One Year Schrock Innovations Parts and Labor Warranty
Anyone purchasing the Ultimate Upgrade before April 25th will receive a free memory upgrade to 4 GB!
This sale will be running for the next 21 days or so.  If your computer is slowing down, breaking down, freezing up, or just taking up valuable space in the garage, this is your opportunity to get it recycled for free and get into a new Modular PC.