Get a MacBook Air for $25?
Written on: September 14th, 2008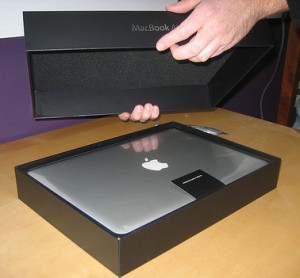 Read this post to learn how you can get a
MacBook Air for as little as $25 – NO JOKE!
I was browsing around on eBay this morning and saw some scammy looking guy doing what he called a "mystery auction".
The concept was very similar to a blind auction where you bid on an envelope or a package without knowing the exact contents that are contained in the envelope.
I was a little bored today, so I figured what the heck. I have a bunch of e-envelopes going online on eBay via scheduled auctions over the next 24 hours.  Each e-envelope contains a free gift from me ranging from $1.00 all the way up to a MacBook Air computer ($1799.99).
In accordance with eBay's rules, this is not a contest, lottery, game of chance or skill, or any other kind of gambling deal.  You are bidding on an e-envelope and anything inside the e-envelope you win is simply a gift from me to you.
All of the rules are explained in the auction, but if you have any questions, feel free to post a comment here or call me if you need to.
This is a 1-day auction on eBay that will wrap up Monday afternoon.  It will probably take me half a day to process all of the free gifts, but what the heck 🙂