New Schrock Innovations Website Coming
Written on: September 9th, 2008
Over the past couple weeks we have been working on a new Schrock Innovations website design that will be powered by WordPress.
As you can plainly see, our current design is very heavy and somewhat "PC" (as opposed to MAC).  I designed the layout for the current website and served as the "inspiration" for the color selection and design elements.
Our current website is a blend of many designers, talents, one too many Internet Marketing seminars, and a plain old lack of functionality.
Needless to say, I solicited some outside advice on the new design and these are the suggestions customers and other designers had for us:
Schrock does a lot of enviornmentally friendly things.  Why don't we talk about it on the website?
We have a huge wall of thank-you notes from customers and non-profit organizations we have helped in the past.  Why don't we take the hodgepodge of notes off the wall and put something about them on the website?
We need more white space and less contrast
Our logo looks like it was designed in the late 1990's (close – it was redesigned in 2002)
Your DIY content is hard to navigate – you need to make it searchable
The list of suggestions went on and on.  We took some of the advice to heart and set out to design the new and improved Schrock Innovations website that will carry our company over the next decade.
Some of the most major changes include the revised logo that maintains the original styling to a point, but incorporates lighter blues than we have used in the past.
It is flexable, efficient, easy to navigate, and most  importantly, showcases what we offer – Award-Winning Service.  Here is a sneak peek at the design that is being coded to a theme as we speak: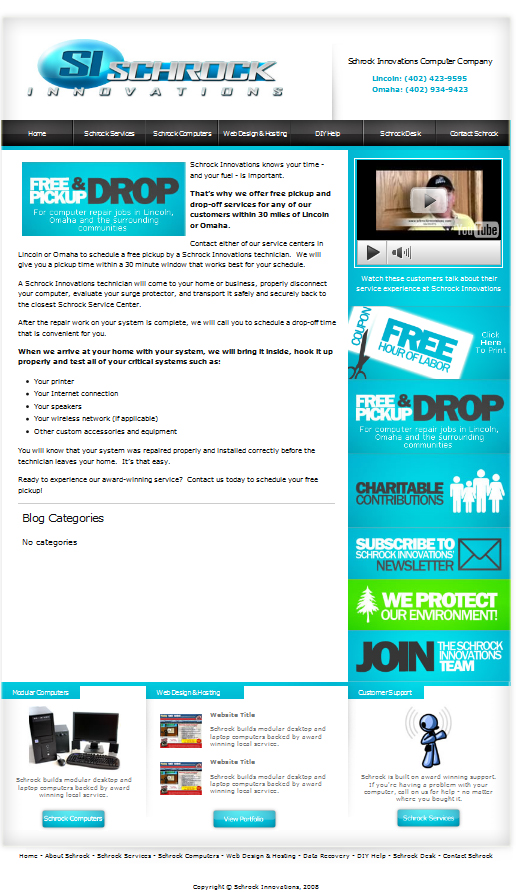 So what do you think?