How to Enter an Affiliate Marketing Niche andMake $1,000 a Day in Less Than 30 Days
Written on: August 12th, 2008
This is the first post in a multi-post series on
how to dominate an affiliate marketing niche.
Subscribe to my Feed to Get the Whole Series Delivered to You
My family and I are spending some time in the Colorado mountains this week, and as we move from tourist haven to tourist haven I keep getting asked what I do for a living.
All of this altitude and fresh air got me thinking about the bigger picture of what I am doing in affiliate marketing.  Everything I have done up to this point has been following others into niches.  I have been replicating the work that others are doing and tweaking it using techniques and resources that others don't have access to.
With that said, I have never carved out my own affiliate marketing niche and built the long-term infrastructure to make money in it.  When you think about it, the majority of affiliate marketers never do that – they simply do what I was doing.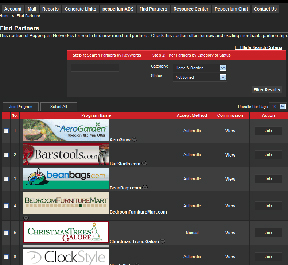 I decided it is time to make my move, so I developed a plan of attack on a specific niche.  Most affiliates are looking to make quick money with little or no work.  My plan is being executed while I write this, and if it works, I should be making as much as $1,000 a day in as few as 30 days.  This should be long-term money that will continue to pour in as long as I tend my website properly.
If you want to see how I am doing it so you can repeat it in your own niche, read on.  I am going to tell you how I identified the niche I am going to take on, how I researched my competition, and how I plan on dominating the organic search positions for my keywords to drive highly targeted free traffic to my new website.  Here's the plan:
STEP 1.  Scan Top Level Affiliate Networks for Pools of Offers & Payout Rates

If I am going to go through all of the work of making a niche website, I want to have lots of money making options down the road.  I need multiple reasonably-paying offers for my visitors spread across multiple affiliate networks.
Top level networks like Azoogle, Pepperjam Network
, Market Leverage, COPEAC, and CPA Empire do a great job of landing good offers and then holding onto them.
Some of the smaller affiliate network clients (the companies you are promoting through your affiliate marketing efforts) will place caps on how much they will pay out in a given period, so its important to have options that you can switch between.
For example, an online pharmacy offer may only pay for 1000 leads a day, so if you can send more than 1,000 you need to switch the offer you are sending to when you hit the cap.
I believe that I have identified a niche that is flush with offers from multiple clients across several networks.  The niche I am going to target also offers some nice payouts ranging between $15.00 and $22.00 per lead (CPA).
There are an average of three unique offers with each network mentioned above that target my niche.  I should have lots of options to monetize my traffic for the long term down the line.
So why am I going after such a high payout offer?  It is true that most of the time the higher paying offers are more difficult to convert.  While many affiliates go for the smaller paying offers I prefer the higher payouts.
Usually you can make $1 or $2 by having visitors install a toolbar, submit their zip code or email address, etc.. I want to go after some of the more difficult ones because the competition in the search engines is a lot less intense in many cases and you can make $1,000 a day on less than 100 leads.  You need a LOT more traffic to make tat much money at $1 a lead.
What is Coming Tomorrow:
Tomorrow I will post about how to research the competition in your niche to see what you are up against in the search engines.  I will tell you what keyword research tools I use, what I look for in the SERPS, and why it is important to spend some time on each of your competitors website.
Subscribe to my RSS Feed now and you can keep up on each of the installments in this series.