In Denver and the DNC Convention is EVERYWHERE
Written on: August 8th, 2008
For those of you who are not political animals, the Democratic National Committee Convention is going to be in Denver on August 25th. We were lucky to get a room here because from next week on just about every hotel in Denver is booked full for the convention.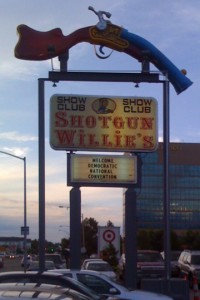 We are staying at the Holiday Inn Select in the Denver Shopping District instead of the hotel that the Breakaway Conference is at. I am a member of a trad organization called TradeBank and I was able to buy the room here for a week using trade dollars we have accumulated over time.
Its not a bad hotel at all. Decent service, very nice 10′ deep pool, and that usual blend of Colorado rustic and updated amenities. With that said, the view out our window overlooks Shotgun Willie's Strip Club..er… Gentleman's Club.
Big as day on their marquee it says:
Welcome Democratic National Convention
Note the almost natural-looking droop of the double barreled shotgun that seems to have a curious ripple at the end of the barrel…  Anyway, I digress..
We walked over to Applebees for dinner and then to Target to get some odds and ends (and of course you have to wal through the Shotgun Willie's parking lot to get there).  The altitude is getting to me a bit and I didn't sleep very well last night, but I am really looking forward to meeting the CPA Empire gang and speaking on the Video on the Internet Panel.