Internet Family Safety Guide Available FREE Just in Time for Back to School
Written on: July 25th, 2008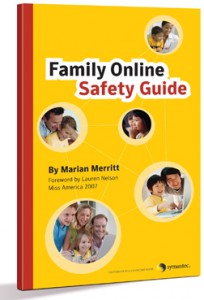 Symantec was doing free security checkups on computers at BlogHer 08 and had a free family online safety guide they were distributing as well.
With kids heading back to the classrooms in less than a month, online safety is something that parents should not overlook.
Sometimes its pretty easy to just say that your kids know more about the web than you do.  The cool thing about Symantec's guide is that it gives you the rough overview and if there is an area in which you would like more information, there are links to sites that specialize in those areas.
From the guide:
We're all trying to manage our childrens' growing
independence and doing our best to defend them and our
computers from the many serious dangers on the Internet.
We'll go through the top Internet concerns in this guide
but if you are interested to dive more deeply, I'll recommend
Web sites and publications that can keep you informed
as the conditions change each day.
If you have a child or a grandchild heading back to school home or away, download their free online safety guide and make sure they have their bases covered.