John Chow Eliminated From the Top Affiliate Challenge
Written on: July 11th, 2008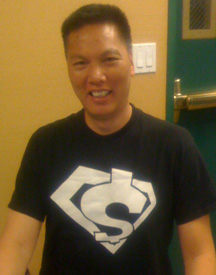 In an interesting turn of events on the Top Affiliate Challenge yesterday John Chow was eliminated from the competition as a guru.
Unknown to the gurus, we were keeping a tally of their wins and losses to determine which guru would claim the top guru spot on the show.  It was designed to reward their leadership and dedication to the education of the contestants.  After today's episode, it was mathematically impossible for John to win as a guru.
Shoemoney had to bow out for some vary valid family reasons, Ken McArthur was doing everything right, and John just seemed to be content losing every day in a bid to win the show for himself and one other contestant.
I have to note that John did nothing that was against the rules of the show, but his actions definately violated the spirit of the show.
With that said, most of today's episode was the fallout from the Chow elimination.  Things get intense starting tomorrow as we start whittling itdown to the very best contestants.