Top Affiliate Challenge Contestants Get Their Party On!
Written on: June 29th, 2008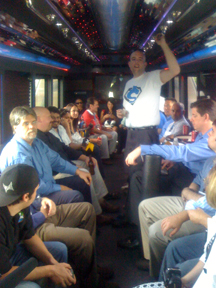 Shoemoney, John, Chow, Ken McArthur, as well as the whole cast & crew of Top Affiliate Challenge and some smart affiliate managers got their party on while touring Lincoln, NE in the Luxury Limousine Party Bus and enjoying some sweet alcohol courtesy of Randy's Grill 'n Chill.
Representatives form NeverblueAds, WebJamAds, and XY7.com joined us on the bus.
We stopped by at a few local sponsors' places and said hi and then made a pit stop at Shoemoney's house to get a box of Shoemoney and Fighters shirts.
We then set out for Billy's Restaurant and had an absolutely DELICIOUS steak dinner from the locally fanmous Chef Nadder.
After I thought we were done for the evening and heading back to the New Victorian Suites for the night, Shoe commandeered the bus, booted me off (he kept my wife on board) and took everyone out to the bars.
I tried to call the driver because we had an agreement, but as he pulled away in the lot he had a Shoemoney tshirt on and I knew at that point he had been compromised.
One day earlier, John Chow enjoyed a 50 minute ride from the Omaha Airport to Lincoln. He took the time to make a short movie about some of Nebraska's finer points along the way.
Ken has been his quiet, normal, kind self the whole time. I think he is kind of like a raccoon – really cute and firendly looking when you see him, but he has some nasty claws if you back him into a corner.
All around the cast of the show have all been awesome. As I write this I am surrounded by some of the latest computer and camera technology frantically transferring video and rendering some crazy cool stuff.
The first day of shooting a reality show is a bear because you have to do all of the getting to know you stuff. These first two days are going to be hell, but things will slow a bit after that.
At any rate, I have some scripts to write and some crazy twists to plan, so be sure you tune in at the Top Affiliate Challenge website on July 1st at 1:00 PM to see team Toolbarn, Team XY7.com, and Team Pepperjam Network face off for the first time!