Schrock Innovations Offers Free Data Recovery and Computer Repair for Omaha Tornado Victims
Written on: June 8th, 2008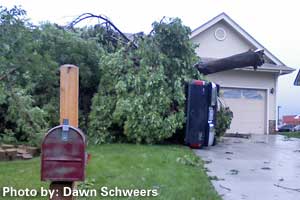 If you follow the news you might have heard that Millard (a subdivision of Omaha, NE) was hit by an EF-2 tornado last night. My wife and I heard the sirens at 2:30 in the morning, grabbed our sleeping son and headed for the basement
We were among the lucky because the tornado and the bulk of the storm went North of our home, but watching some of the homes in Millard on the news it is easy to see that there are some trying times ahead for those whose homes were damaged.
Schrock Innovations wants to do its part to help those who were victims of the storm by offering free computer repair services as well as data recovery services for damaged hard drives.
While possessions are easy to replace in most cases, data on damaged computers like pictures, letters, homework, and genealogy can not be replaced.
Schrock Innovations' Omaha Service Center is located at 3032 N. 93rd Street in Omaha NE. Simply drop off your damaged computer or hard drive and we will do everything we can to recover your data.
A few years back an F4 tornado hit the small city of Hallam, NE and our Lincoln service center saw some of the worst of the damaged computers. If we can recover data from computers with blades of grass driven through the cases, there is a chance we can help victims of this tornado too.
If you have any questions or need to schedule an in-home pickup of your system at no cost, simply call opur office at 934-9423 and we will be happy to help.