Rocket Profit's Newest Fan – Jacob!
Written on: March 19th, 2008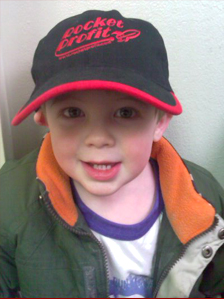 When I was at Affiliate Summit West a couple weeks ago, there were a ton of affiliate networks with some pretty neat swag in their booths.
My wife was making fun of me for pretty much picking up anything that was free, but I persisted. after all, you don't come back from Vegas without gifts for the kids, right?
My 19-month old son Jacob is now the proud owner of this awesome Rocket Profit hat. Seriously though, I just completed an affiliate application for them. Shoemoney speaks very highly of them and suggested I establish an account.
Maybe now that all of their mergers are complete, someone from Rocket Profit reading this post will get in touch with us about Top Affiliate Challenge. If I like the offers I see after my application is approved, I will definately be knocking on their door!