Watch our for Mr. Woods Seeking Capitol
Written on: March 18th, 2008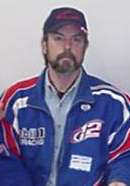 I have seen a lot of people try a lot of things over the years, but this one is the closest thing to a Lifetime movie that I have ever seen in person.
This guy is attending meetings of the Lincoln Independent Business Association trying to get people to give him investment capitol. LIBA banned him from their meetings, but still he persists.
Here is an email that was sent to all LIBA members a few days ago from a LIBA representative:
We are growing concerned about a gentleman who is trying to get money (investment capitol) from local business owners.

Marty Woods a.k.a. Lance M. Woods, Dr. John Woods, Chad Woods showed up in Lincoln last December and has attended a LIBA luncheon and tried to attend our convention. We also know that he has approached other business organizations in Lincoln.

I have instructed him to stay away from LIBA events. Please see the attached photo. If you see him at one of our events, please alert the LIBA staff immediately.
LIBA is a pretty easy-going organization that is VERY effective at connecting business owners with networking opportunities. This guy must be pretty shady to get this kind of attention. I don't know him personally, nor have I ever seen him myself, but I will be sure to keep my hand on my wallet if I do.