Scrapers Counter RSS-Footer Plugin
Written on: January 31st, 2008
It's nothing new to see scrapers trolling the RSS feeds of good bloggers stealing original content and posting it on MFA (Made for AdSense) blogs.
I was pretty pumped to install Joost de Valk's RSS Footer plugin to help get a little something back from those who would steal my content for their own gain.
The RSS footer plugin adds a credit link to each post in your RSS feed so that when the automated scrapers come knocking they inadvertently post a link back to your original post. Until now.
A few days ago I made a post about the Top Affiliate Challenge show we are working on. Within minutes, a scraper MFA blog had nabbed my content and re-posted it.
The funny thing was that the blog REMOVED the RSS Footer link from the beginning of the post, leaving a single period behind. The even funnier thing as that despite all of that work, they GAVE me credit at the end of the post for the content.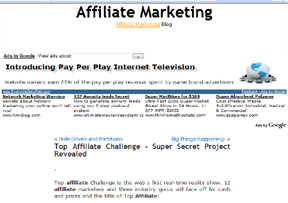 When I first started using the plugin I noticed that most scrapers disable any links in the content they steal when they steal it. I was getting track-backs from other blogs that had my custom RSS Footer text at the beginning, but no link.
Now it appears they have gone a step further and are removing the text all together.
Scrapers will always be around, and I guess as long as they give credit for my work I can't complain too loudly. It is still frustrating though when you write a super-star post and Google points to your blog as duplicate content.
I noticed a significant increase in scraping activity when i signed on with Feedburner. I wonder how many of my RSS subscribers are scrapers?