Brad's PC Computer Repair in Lincoln, NE Using AdWords to Buy My Trademarks
Written on: January 11th, 2008
I was doing some vanity searching yesterday on my name and the name of my computer repair company, Schrock Innovations. It was interesting to see one of my local computer repair competitors, Brad's PC Repair, buying AdWords on searches for Thor Schrock as well as Schrock Innovations.
Brad's PC Repair just moved their office less than a block away from us in Lincoln, NE. They seem to be running a pretty solid budget on Google AdWords using our trade names as their keywords.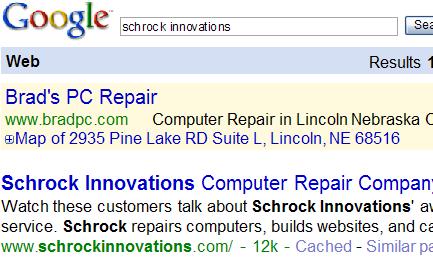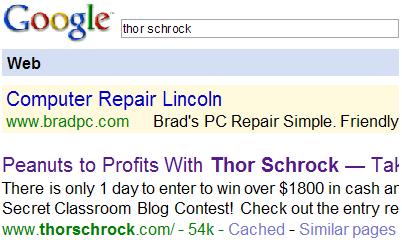 While I have never met Brad, I am sure he is a good guy. From what I can tell from his website, he is promising personal service (i.e. he will do all of the repair work on your PC) and he is doing it for between $20-$40 below the going market rate.
This is America, and unlike some other competitors in the Lincoln marketplace, we are not going to pick up the phone and sick our attorney on him. But it does beg the question, what can you do if a competitor is trying to ride your coat tails and skim traffic from Google using your trade name?
Is it Wrong to Buy Trademarks in Google AdWords?
Yes and no. It is against Google's terms of service to use another company's trademark in the TEXT of your AdWords Ad, but it is not against their TOS to bid on keywords that are trademarks.
However, Google clearly states in the AdWords TOS that AdWords users are exclusively rsponsible for the keywords they select. Here is what Google replied back via email when I asked them directly if there was anything th can do to help us shield our trademark:
Our terms and conditions with advertisers prohibit intellectual property infringement by advertisers and make it clear that advertisers are responsible for both the keywords they choose to generate advertisements and the text that they choose to use in those advertisements on Google.
On the legal side of the equation, if a company could prove that it was Brad's intent to deliberately confuse and misdirect customers seeking to do business with Schrock Innovations, that is a violation of Nebraska's state laws (we have some experience dealing with people doing that in the past, so I know that first hand).
On the moral side of the equation, it all comes down to intent. If the intent is to confuse customers and redirect them, then it is very wrong. If the intent is to compete in the marketplace of products and services by giving customers another option, then that is perfectly fine.
What Can You Do if Someone is Buying Your Trademarks?
As far as Google is concerned, it is perfectly fine to sell your trademark for use by others. Google says on their website that they encourage you to contact the company and resolve the situation pri9vately. In other words, Google could care less.
Depending on the impact the activity is having on your business, you might want to take a more direct approach to handling the situation.
You Can Sue
While we are not planning on doing it, we could have an attorney ask Brad's company to stop buying our trademarks. There is something about getting a certified letter or a visit from a constable of the cour that gets some one's attention. Who knows what the intent is, or if it would even end up in court, but it would be the fastest way to force a competitor to stop.
You Can Ask
You would really be surprised how many business owners are responsive to a simple "Please stop doing that" request. Brad's office is only 1 block from mine, so maybe I'll pop in and welcome him to the neighborhood.
I sent him an email yesterday to see how recetive he would be to my request. I haven't heard back yet.
You Can Raise Awareness of the Situation
Don't underestimate the power of public awareness. Don't hesitate to blog about the situation or mention it in your other advertising on a passing basis. Buying trademarks in Google can be a questionable practice, and pointing out that a smaller competitor wants to ride your coat tails can be entertaining to your current customers. Some of them may even laugh and tell their friends!
Depending on your situation of course, you want to be careful what you say and how you say it. I am a big believer in not badmouthing my competitors even when they desperately deserve it. Stay classy and honest and as the pressure builds, your competitor just might stop buying your trademarks!
Click the Ads
This option speaks for its self. The ads are there for the clicking, so take a look and see what your competitor is up to. It's their dime 😉
In all seriousness, I have asked Brad to stop buying my trademarks. I will give you an update and let you know what he says. Like most people in our industry, he is probably a very skilled guy with a good business head on his shoulders. From time to time we have customers who we can't or don't want to handle, and when that happens, we need a place to refer them.