Blog Blaster, Feed Blaster, Instant Booster, and e-Trinity Internet Marketing are FRAUDS
Written on: December 12th, 2007
Blog Blaster, Feed Blaster, Instant Booster, e-Trinity Internet Marketing, and Sebastain Foss (if that is even a real person) represent some of the lowest members of the internet marketing food chain. Right below pond scum in my opinion. Here's why.
It doesn't happen every day, but I just got scammed by an internet marketer last week.
I have been talking to more and more "old school" internet marketers lately, which means I am getting added to their mailing lists as well.
I received an email message about a product called Blog Blaster that promised 2 million blog backlinks that come from opt-in blogs all over the net.
How would you like 2 Million Sites linking to your ad ?
Weblog or blog population is exploding around the world, resembling the growth of e-mail users in the 1990s.
Post your ads where people read them!
– What if you could place your ad on all these sites ?
Right, that would mean you would have millions of sites linking to your ad.
For Full Details Please read the attached .html file
It sounded too good to be true, and of course it was. But here is how they tricked me into sending over my $49.99: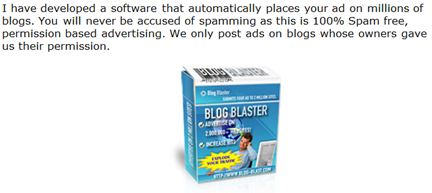 Their sales letter promised that this would be a 100% spam-free. Opt-in advertising systems are awesome, so I though I had stumbled onto something that could give my blog an edge on the web. I eagerly sent my PayPal $49.99 and downloaded the Blog Blaster software.
To their credit, the software was very intuitive and easy to use. The problem is that it IS a spam program and it DOESN'T work. Here is how I know:
I did a search using their software for "Thor Schrock's Technology Blog" which is an active Google search term. I FOUND my OWN BLOG in their list of opt-in blogs and of course, I never opted in.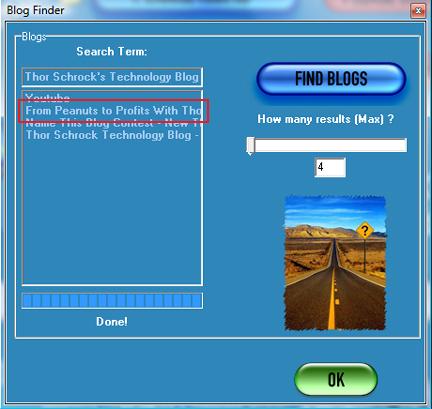 I decided to see exactly what happened when I blasted my own blog through Blog Blaster's so called opt-in blog advertising service. NOTHING happened. Not even a spam comment.
But it seems that other bloggers are very familiar with Blog Blaster and know how it works. I emailed a few of the other bloggers that showed up in the list of "found blogs" to see if they might have opted in. Two bloggers responded. Here is what they said.
Kevin OKeefe from www.lexblog.comreplied saying:
Thor –
You sent a note about blog blast through the contact form on our site. Don't know anything about so not sure I can help you.
– Kevin
Brian Turner of http://www.britecorp.co.uk replied to my email saying:
Blog blast is just a comment spam application – they blast lots of blogs with comment spam, in the hope that some of these will automatically publish the spam.

Mostly it's just filtered by anti-spam tools like Akismet.

The minority that are published usually have nofollow on the links, which makes them useless for ranking on Google.

It's also been suggested by Akismet could be hosted on Google servers, and therefore domains promoted via blog blaster could be on a fast track to being banned from the search index.

So, overall, blogblaster is probably not a worthwhile investment.

Hope that helps.
Obviously, no one opted into this "advertising service". Once I realized I was was scammed, I filed a PayPal charge back, and then starting looking into how I was taken in by such a scammer.
I even fired off a "Blast" to my own blog to see what happened, and sure enough…. crickets… Not a thing – not even a askimet spam comment.
Those of you who read my blog regularly know that I was able to use the knowledge I learned in Joel Comm's Secret Classroom to really propel myself to a profitable online presence.
One of the things I did to accomplish that was offer my personal contact information so that people who had been burnt by people like those at Blog Blast in the past would be willing to trust me.
When I looked back at the emails I received, I noticed that the e-Trinity emails came in on the rebate address I set up for my Secret Classroom program and posted on my Secret Classroom sales letter.
e-Trinity Internet Marketing scrapped my email address from my website and then sent me unsolicited email promoting their product!
So here we have a company who calls themselves a legitimate internet marketing company who scrapes email addresses for their list off the web, lies on their sales letter, offers a product that is supposed to spam blogs, but actually doesn't work at all – even as a spamming program.
After I realized I had become one of the many internet marketing victims on the web, I immediately "unsubscribed" from their evil spammer list.
Since I "unsubscribed" I have received the following emails:
More and more people are subscribing to feeds every day and there are millions who are already subscribed.
Thus, your ad will reach a very broad range of potential customers with each use of Feed Blaster!

Feed Blaster is the first & only submitter that can submit your ads to thousands of feeds within a few minutes! Post your ads where people read them!

– What if you could place your ad into all these feeds ?
Right, that would mean you would have millions of sites
linking to your ad – and millions of users reading your message within
minutes – and my idea actually works

For Full details please read the attached .html file
What a SCAM! if you post to people's blogs with a spamming service, your links will show up in their comment feeds. The trouble is that this is a dishonest way of advertising and even worse – since their blog blaster program doesn't work, this won't work either!
P.S. But wait there's more! (like that sales letter technique?)
I also received this email after unsubscribing!
Can you afford to lose 300,000 potential customers per year ?
How would You like to divert 1000s of fresh, new visitors daily to Your web site or affiliate web site from Google, Yahoo, MSN and others At $0 cost to you…?
…iNSTANT BOOSTER diverts 1000s of fresh, new visitors daily to Your web site or affiliate web site from Google, Yahoo, MSN and others at $0 cost to you!
…No matter what you are selling or offering –
INTSANT BOOSTER will pull in hordes of potential customers to your website – instantly!

For full details please read the attached .html file
I am done with these fools. I did a Google search before I purchased to see if this was a scam, and found nothing. Something tells me that is about to change.