Jacob's First Circus – the Perfect Alternative to a Husker Game Day Debacle
Written on: November 4th, 2007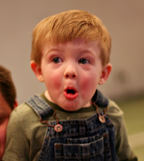 Rather than stomaching what eventually became another embarrassing Husker loss yesterday, Jake, Kim and I decided to go see the Ringling Brothers and Barnum & Bailey Circus at the Pershing in Lincoln.
It had been many years since I attended an event at the Pershing, and anyone who says that Lincoln does not need some kind of new arena is insane. This place is old, cramped, and poorly designed for modern needs. But I digress…
Jacob LOVED his first circus. He is 15 months old right now (yes he is a VERY big boy) and we were not sure if he would sit through an entire circus. At first he looked a little dazed by all of the lights and things going on around him, but eventually he settled in and enjoyed the show.
I knew Kim had managed to get some good seats through Ticketmaster's website by choosing the show that was going on the same time as the game – but neither of us expected to be sitting in the first row, ringside!
At first I was a little worried that the circus would be less than I expected. I grew up in Omaha watching the Shrine Circus at the Civic Auditorium – a full three-ring production. This circus was only one ring and the auditorium was less than 10% full.
But as the show started, my concerns disappeared. The setting was actually very quaint, with the performers interacting directly with individuals in the crowd. At one point the ringmaster even walked by and looked at Jacob and said, "cute kid!" (Is is a good thing when a circus ringmaster expresses interest in you child?)
The show turned out to be the perfect size for Jacob and he was one pooped puppy when we got in the van to go back home. Check out the new Flickr badge I added to the sidebar to have a look at some of the other amazing images my wife captured!