Steve Peterson FIRED!
Written on: October 15th, 2007
After The Cornhuskers embarrassing blowout loss to Oklahoma State last Saturday, many fans have been calling the call in shows demeaning some one's head on a platter.
Here is a cartoon by popular editorial cartoonist Paul Fell that is making the Email rounds as of this morning: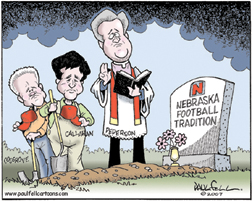 You just don't fire a coach in mid-season – its the most disruptive thing you can do to a team. But an Athletic director… That's a different story.
This afternoon WOWT is reporting that Nebraska Athletic Director Steve Peterson has been FIRED from his post.
There is a news conference scheduled for 4 pm. It should be interesting…