BlogRush Making Progress Against Scam Blogs
Written on: September 25th, 2007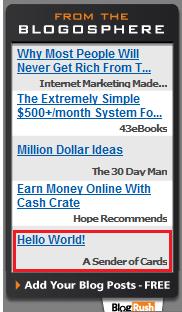 For those of you who have not read my original post, BlogRush is a pretty neat idea that has been generating some moderate (nothing stellar though) traffic to my blog.
There have been some issues though with people scamming the Blogrush system. John Reese, the creator of Blogrush has been upfront and communicative about the challenges as he and his team root out the problem blogs.
For the first time today I witnessed some evidence of their efforts.
This is a screenshot of a Blogrush widget that was displayed on 9/25/2007. I chuckled a little when I saw a link to a default "Hello World" WordPress post, so I snapped the shot and clicked the link to see what was on the blog.

As I suspected, the blog was just a shell designed to abuse the Blogrush system. Each time the Blogrush widget is loaded, the blogger owning the widget earns syndication credits. These credits are what gets the blogger's post headlines on other people's widgets around the web.
People were abusing the Blogrush system by reloading their own widget over and over. Rather than risking getting a real blog with real content banned, some bloggers created a fake blog to contain the widget and gather syndication credits for the real blog.
What was interesting was that the Blogrush widget was NOT being displayed on the fake blog anymore. In one of his previous emails, Reese had stated he was working on clearing fake blogs out of the system and in the meantime he was moving to a manual review of new blogs applying for membership in Blogrush.
The fact that the "Hello World" post was syndicated shows me that John still has some work to do to clean up the bogus syndication credits in the system.
But the fact that the widget did not load on teh fake blog also shows me that Blogrush is slowing the addition of new bogus syndication credits. That means every one's click through rates should climb.
Fewer bot-generated impressions means more human eye impressions, and that means more traffic for participants. Progress is slow in coming when so many people are gaming the system, but I believe Blogrush is well on its way to becoming a staple on my blog sidebar.