Thor in a Hollywood Motion Picture? This is Going to be Fun!
Written on: August 12th, 2007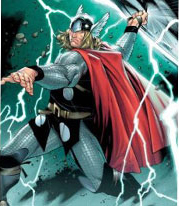 As if the 1987 film Adventures in Babysitting had not provided enough bad Thor jokes, Marvel Comics is preparing to create a new movie about the 1960's comic book super hero, The Mighty Thor.
A friend of mine emailed me and jokingly said this is a HUGE promotional opportunity. We'll see. Maybe there's a few good parodies in it at least.
If nothing else, I will be the only guy able to go to a Halloween party next year as himself in costume!