MySpace Hacked?
Written on: August 4th, 2007
I was checking my incredible backlog of email this afternoon and I saw a message from www.myspace.com saying a friend had sent me a message. I clicked the link and this is what I saw: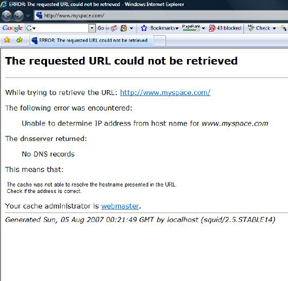 Maybe it was a fluke, but I have never seen a DNS error like this on a major site like MySpace before. Usually you see these when you are moving to a new web server or in the RARE instance that someone gets into your DNS settings and screws something up.
Anyone else having troubles aside from the normal MySpace glitches?