OK AT&T – I'm Sorry! Please Stop Excavating My Yard!
Written on: July 6th, 2007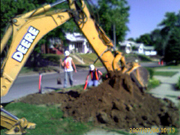 Last week before the iPhone launched I predicted that the AT&T network would have trouble keeping up with the bandwidth needs of iPhone users.
In fact, the day the iPhone launched, AT&T's activation network was knocked out by the sudden surge of iPhone activations. AT&T said they had remedied the problem and would contine to expand their data network.
Maybe I should have kept my mouth shut, because all of a sudden AT&T is burrying new fiber optic cable in my front yard!
AT&T listen up – Your network rocks and there is no need to expand it in my yard at the moment! At least wait until I have sold my house!