Get a Good Surge Protector or you Could End Up Like This Guy
Written on: May 29th, 2007
Every year right before storm season I do a radio show on the need to have a good surge protector. I tell my listeners about surge protector myths and how to know if your surge protector is actually doing its job.
Last week a customer brought in a computer complaining about a burning smell after the last big thunderstorm. We opened up the computer to take a look and this is what we saw.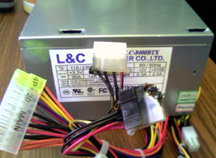 The molex adapter had completely fused itself to the plastic on the computer's hard drive and the black power wires leading to it had become so hot that the shielding melted completely off in some places.
When we told our customer what had happened, he was surprised to say the least. His computer was plugged into not one, but two surge protectors! He thought surely 2 was better than one, so why did the computer get fried?
His computer got toasted primarily because he was plugged into a non-grounded outlet using an adapter. without a grounded outlet, no surge protector can function properly. In fact, the 3000 Joule protectors that we sell will sound an audible alarm if they are plugged into a non-grounded outlet.
Remember that surge protectors only have a finite ability to protect your equipment. They wear out quicker than you think. Inexpensive protectors (like the ones for under $25 at Wal-Mart) are typically good for about a year. Don't trust the "protected" lights unless the instructions say the surge protector will turn off the light when it is dead. Most of the time the lights stay on for ever.
If your surge protector is more than a year old, has a flickering power light, a dim power light, or no power/protected light it s time to replace it.
I have a couple surge protectors that were returned because our customers do not have grounded outlets in their home. The packages are open so I can not sell them. Post a comment below and I will mail you a FREE surge protector. I have two to give away, so first come first serve!